Mormon Churches used to aid illegal Mexicans?
The Church of Jesus Christ of Latter-day Saints is allowing its churches in San Marcos, Calif., to be used for immigration services, including the issuance of matricula cards for immigrants from Mexico who need the ID to function in the United States. Mormon Church spokesman Scott Trotter says the Mexican Consulate asked the church if it could provide temporary location for a "Mobile Consulate" for Mexican citizen services that are legally provided at the consulate in San Diego. "The church sought the input of the U.S. State Department Office in Los Angeles, which confirmed that the request involved legal services provided by the Mexican Consulate. The church then provided the location simply as an act of neighborliness, just as it has for evacuation centers during major fires and in housing the National Guard, or providing temporary relief for flood victims in New Orleans and Iowa," Trotter said.
Is the Mexican Consulate going to ask the Mormon Church to use its facilities in the future? Will this spread to other states? Is this an isolated incidence of the Mormon Church helping Mexicans stay in the country, or is this the begining of a broader standing?
---
University of Dayton School of Law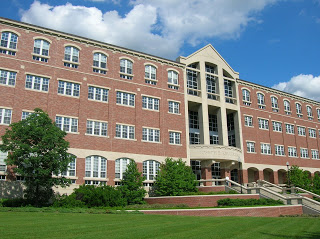 The University of Dayton School of Law was the first law school in the country to offer the two year J.D. A student graduates in five semesters versus the typical 6 semesters offer at most other law schools. University of Dayton Law Students who are on the two year track simple take one extra class each semester to eliminate the sixth semester. The University of Dayton School of Law is an ideal place for Mormons who may be married with children and could really benefit from getting into the work place a year sooner than law students attending a different school. The third year in law school can cost a student an extra $100,000 versus a University of Dayton law student who graduates in two years. If a student is borrowing $30,000 a year for living expenses and then loses a years worth of income (say atleast $70,000) then there is atleast a six figure expense for staying in school the third year.
---
2 More Men Join Sex-Abuse Case Against Mormon Church
Two Portland men filed an $8.5 million lawsuit today against the Mormon church and the Boy Scouts, bringing to eight the total number of former Boy Scouts alleging sexual abuse by Timur Van Dykes, who was a church and scout leader in the 1980s and early 90s.

The lawsuit alleges that Timur Van Dykes molested Boy Scouts in Troop 719, which was supervised by the Church of Jesus Christ of Latter-day Saints. Dykes, a registered sex offender who now lives in Southwest Portland, has been convicted of at least 26 sex crimes since 1983. Together, the pending abuse cases filed in Multnomah County Court against the scouts and the church seek $33.5 million. Six of the alleged victims agreed earlier this month to enter talks to settle their lawsuits but failed to reach a resolution.
---
25 Most Applied to Law Schools by BYU Undergrads
2006-2007 BYU Pre-Law Students
School Name: # That Applied # That Matriculated
1. Brigham Young University 411 101
2. University of Utah 239 25
3. Arizona State University 150 14
4. George Washington Univ. 111 15
5. Univ. Nevada Las Vegas 108 8
6. Georgetown University 98 5
7. Duke University 97 9
8. University of Arizona 97 4
9. George Mason University 95 2
10.University of Michigan 92 6
11.University of Virginia 90 6
12.William and Mary Law 87 2
13. University of Texas 86 5
14. Harvard Law School 85 5
15. UCLA 85 2
16. Columbia 79 3
17. Univ. of Chicago 74 6
18. Stanford Law School 69 2
19. UC- Berkley 68 0
20. University of Oregon 68 2
21. Baylor University 67 2
22. Gonzaga 60 15
23. Notre Dame 58 1
24. University of Idaho 58 5
25. U. of Washington 57 0
---
BYU, Mormon Law Students Ultra Competitive
PROVO — Brigham Young University students have long been known as the most sober in the country. Now students in two of BYU's graduate programs have revealed themselves to be the ultra-competitive.
In two new books, the company ranks students in BYU's law school and graduate business programs No. 1 in the category "Most Competitive Students."
The Princeton Review rankings hit the streets today with the release of the "Best 170 Law Schools". The Princeton Review is compiled from surveys of 18,000 law students.
The competitive ranking for the law school book was based on four questions — the average hour of sleep a student gets each night, the hours a student studies outside class, the hours a student believes classmates study outside class and the degree of competitiveness among students at the school.
What is it about Mormon law students that make them so hyper competitive? Does this make for better students and attorneys?
---
Non Utah Law Schools With High Mormon Populations
1.Arizona State University
2.University of Nevada at Las Vegas
3.Gonzaga
4.Creighton
5. University of Arizona
6. University of Virginia
7. UCLA
8. George Washington
9. Columbia
10. Harvard
Blog's Purpose
I hope this blog will be a forum where Mormon lawyers and non Mormon lawyers can come to learn about Law Schools and different events happening in the legal community. If you have any suggestiongs about things that you would like to see on the blog just let me know.